2015 hot 5 IN 1 machine micro-current 3D Shaping device with cavitation and RF
Newest !!! Microcurent BIO Face Lifting Fat Removal Machine/ Cavitation RF Machine/Slimming Machine
Technical Parameters:
| | |
| --- | --- |
| Model Name | V1015 |
| Display | 8 inch touch screen |
| Cavitation frequency | 36Khz |
| RF frequency | 10Mhz |
| BIO frequency | 1000HZ |
| Photontherapy | Red,Blue,Yellow,Green,Purple,White,Light Blue |
| Shell material | ABS material |
| Input | 100~120V/200~240V,60Hz/50Hz |
Description:
1.Cavitation technology of Cavitation RF machine:
Cavitation is the latest non-invasive body contouring treatment for localised fat and deep cellulite. In addition 3D Cavitation ensures a large treatment area and reduced treatment time.
Why Choose 3D Cavitation?
• Incredible Instant Slimming Results
• Permanently Eliminates Fat Cells
• Non-Surgical Alternative to Liposuction
• Results not dependent on Exercise
• Safe with No Discomfort & No Down-time
• Excellent Combo with 3D Cryolipolysis
What is 3D Cavitation?
Cavitation is a fat removal body sculpting technology with no anesthesia, no scars, no discomfort, no down-time and presents a risk-free alternative to liposuction. The result is instant loss of fat cells.
Cavitation is a natural phenomenon based on low frequency ultrasound. The ultrasound field creates the bubbles in the liquid of the fat cells, which gradually grow, and implode at certain size. The energy in the form of heat (minor effect) and pressure wave (major effect) is released. As the membranes of fat cells do not have the structure capacity to withstand the vibrations the effect of cavitation easily breaks them, while sparing the vascular, nervous and muscular tissue. The result is instant fat loss.
2.RF technology of Cavitation RF Machine:
Skin Tightening, Lifting, Firming & Rejuvenation
The Focus Fractional RF energy penetrates the skin layers to selectively heat the skin tissue and the extra cellular matrix where the collagen fibres are embedded. The local heating causes an immediate contraction of collagen fibres, and at the same time increases the metabolism of the fibroblasts thereby accelerating the production of new collagen and elastin fibres. The concentration of collagen fibres and the regeneration of the collagen and elastin deposits, tighten the skin layers creating a smoother, healthier and younger looking skin.
Typical 3D Fractional Radio Frequency Treatment Areas
• Stomach
• Thighs (front)
• Thighs (back)
• Buttocks
• Upper Arms
• Back
• Calves
• Face
• Neck & Decolletage
4.Microcurrent Photontherapy Technology of Cavitation RF Machine:
7 COLOR PHOTON LED ION SKIN REJUVENATION ION MICROCURRENT BIO Nanometer Photon
Photon (bio-light) is a continuous spectrum that around 400nm to 1200nm. Simultaneously send out many kinds of lasers that effectively remedy different kinds of skin problems.
The Nanometer Photon is a non-invasion cold light, may rest on the different wave length for the fresh improvement, as the safe cosmetology auxiliary without any side effect. The particular wavelength can be used in the human body and in accordance with different conditions of skins to extend or shorten using time.
The photo may activate the human cell at 5 times of the growing speed,helps to convert the Glucose to ATP. The cell Metabolism energy rises, consequently stimulates the collagens growth. Different Types of Photo have different effects improvement on skin.
This ionizer functions proceed the anion cleaning, as the head detector produces massive positive ion charges, thus effectively eliminates the flesh in-depth dirt to achieve the thorough cleaning effect. The positive ion current also channels the nutrition ingredient to in-depth flesh, renews the skin elasticity. Enhance moisturizer absorption and make your healthy and beauty cosmeceutical 100% effect.
Effect:
Red light:
Suitable for any type of skin, enhance blood circulation, make collagen fiber and elasticity fiber of the deep department reconfigure and resume elasticity at the same tim
Blue light:
Suitable for sensitive and oil types of skin. Moderate acnitis to achieve getting rid of acne & blemishes. Produce enough collagen ,make the cell recombination.
Yellow light:
Reduce spot and fleck, restrain melanin.
Green light:
Improve sensitive skin, shrink skin pores.
Purple light:
Dispel and restrain superfluous hair in the body
White light:
Dispel inflammation and get rid of pimples and dermatitis conditions.
Light Blue:
Dispel and restrain small wrinkles, crow's-foot and black eyes.
Ion: Discharge accumulated toxin and charge nutrition into skin, activate cells and resume skin vigor. Reduce wrinkles, spots, flecks and restrain melanin to achieve whitening and tenderizing skin.
5.Micro-current/BIO technology of Cavitation RF Machine:
Microcurrent is a low level of electricity that mirrors the body's own natural electrical impulses. A microcurrent face lift is a non-surgical, non-invasive cosmetic technique that safely and effectively improves the health and appearance of the skin. It is also referred to as a BIO-ultimate face lift. When used in conjunction with specialized products a manual manipulations, these tiny microcurrent impulses encourage your body's currents at a cellular level. The signs of aging are greatly reduced, while skin tone and elasticity are dramatically improved. These relaxing applications may be enjoyed as a one time, comprehensive facial, or in a series of applications to reach your optimal goals, as well as enjoy enhanced longevity of results. This procedure is proven safe and effective, delivering noticeable results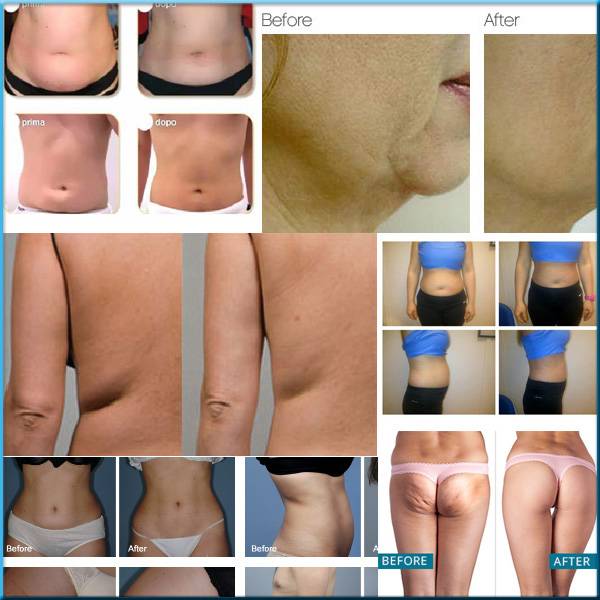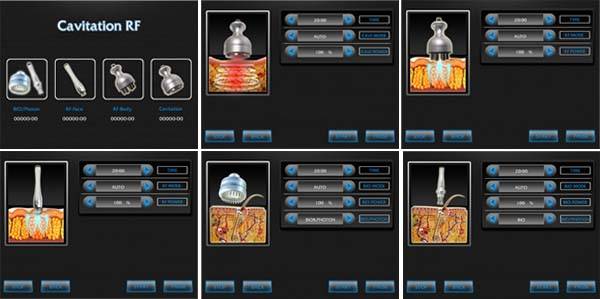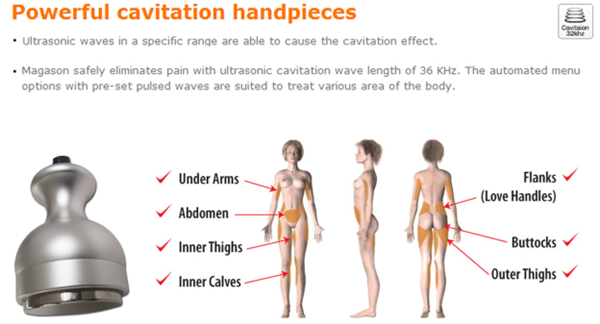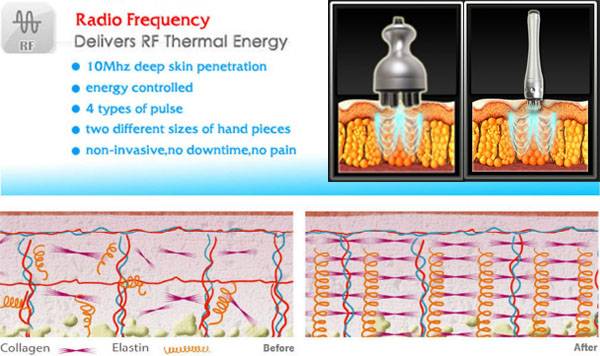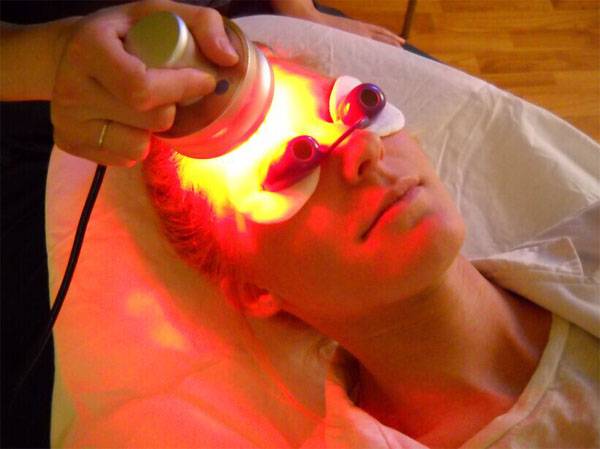 Guangzhou VMED Electronic Technology Co., Ltd.is a high-tech company engaged in development, research, production, sale and after-sales service.

We have independently developed Cryolipolysis,Fat freezing,Cryotherapy,Shock Wave Therapy,HIFU Liposonix ,Cavitation,Radio Frequency, Diode Laser,OPT,IPL, Elight, Laser, Ultrasound, Pressotherapy, Dermabrasion and Electrotherapy series of products. With high technology, stable quality and perfect treatment result, these devices have garnered a good reputation from numerous customers. Furthermore, this makes our company have great competitiveness in the world market and promotes the technology of beauty to a high speed development.

Our company insists on the principle of "people oriented, advanced science & tech and client first", taking survival by high quality and development through science &tech. We provide perfect after-sales service to make customers more contented and high performance-price ratio products to make customers get more profits.
OEM service is our specialty. We can produce software and hardware according to your requirements, which make it easy for you to become a professional manufacturer!
Core Value
5 Core value of VMEDBEAUTY is to promise our faith to customer: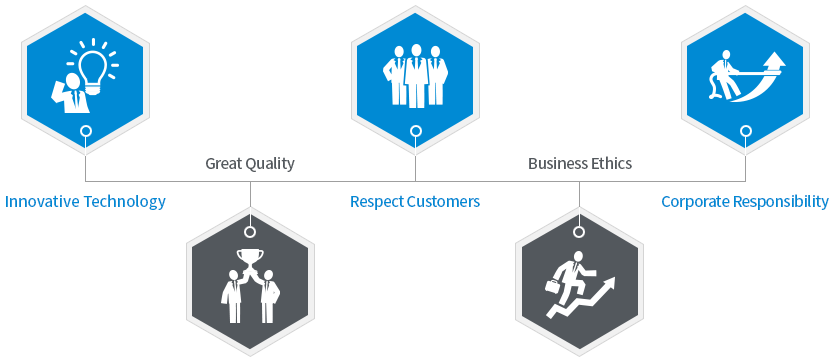 We sincerely hope that we can have chance to cooperate with you in the near future!