Liposonix Ultrashape Focused Ultrasound for Weight Loss and Fat Burning Slimming Machine
Liposonix Ultrashape Focused Ultrasound for Weight Loss and Fat Burning Slimming Machine
Liposonix/ultrashape is a proven, unique and effective aesthetic device built on ultrasound technology to deliver Custom body contouring fat reduction. Liposonix/ultrashape energy is focused in the subcutaneous fat layer beneath the skin, eliminating unwanted fat cells around the waist.
The result is real slimming and smoothing – with an average of 1 inch (2.5 cm) circumferential waistline reduction – which typically means one dress or pant size. For patients with stubborn fat around the waistline (the abdomen and love handles) Liposonix/ultrashape can eliminate fat, giving a slimmer, trimmer look.
How does non invasive fat reduction work with Liposonix/ultrashape?
It utilizes high-intensity focused ultrasound to destroy fat tissue in the abdomen, flanks (hip area), and other "problem" areas. Energy is focused in the subcutaneous fat and creates a rapid rise in the temperature of the targeted area, leading to cell death. The fat treated is then absorbed without an impact on blood lipid levels. There is also a secondary benefit to the temperature increase—it heats collagen, causing contracture of tissue, which can help prevent tissue laxity (loose skin) post treatment.
Liposonix/ultrashape treatments are performed in the office, take about an hour and require no anesthesia. Patients may sense a mild tingling or warmth in the area of treatment. After the procedure, no activity restrictions are required and no compression garments are used. The treatment area may be sore for a short period of time and usually swelling and bruising are minimal. Results reach their maximum at about 8 to 12 weeks after treatment, when the damaged fat has been completely reabsorbed and inflammation has subsided. The average Focus ultrasound patient sees a one-inch waistline reduction, or a potential decrease of one dress size or pant size. Areas can be treated more than once if three months pass between treatments.
Focus ultrasound—one hour, one treatment, one inch smaller
Safe, non-surgical and non-invasive
A revolutionary treatment using high-intensity focused ultrasound to treat and eliminate stubborn fat
Perfect for people close to their ideal size and shape – but need help where diet and exercise just won't work
Do not undergo Focus ultrasound treatment if you are pregnant, may be pregnant, or are lactating.
Do not undergo treatment if you are of child bearing age with a positive pregnancy test before treatment.
Do not undergo Focus ultrasound if there is a hernia in the area to be treated.
Expected Side Effects of Focus ultrasound during treatment:
1).Pain/discomfort
2).Cold
3).Prickling
4).Tingling
5).Warmth
Expected Side Effects of Focus ultrasound post treatment:
1).Pain/discomfort/tenderness
2).Bruising
3).Redness
4).Tingling
5).Swelling
Specification:
| | |
| --- | --- |
| Model | V1022 Liposonix/ultrashape |
| Frequency | 230Khz±20Khz |
| Input Power | 300W Max |
| Focal depth | 32.5px |
| Dimension | 45*35*2500px |
| Weight | 30kg |
F&Q:
Q: What is Liposonix/ultrashape?
The Liposonix/ultrashape treatment is a non-surgical, non-invasive fat reduction treatment that uses high-intensity focused ultrasound energy (HIFU) to permanently destroy fat cells.
Q: Does it work? What are the results?
Yes. In properly selected patients and with our proprietary treatment protocols, we see meaningful results in at least 90% of the treatments. While these results vary, both clinical studies and our experience have shown typical waistline reduction of about one dress or pant size (1 inch or 2.5 cm). Aesthetic outcomes have been very good for patients that have maintained a healthy lifestyle after the procedure.
Q: Who is a good candidate?
Patient selection is important: our clinical experience has been that Focus ultrasound works best for active, healthy individuals who have at least 1 inch (2.5 centimeters) of fat to lose in their abdomen or flanks. We find that patients who are close to their ideal weight have the best results. Focus ultrasound can be performed on people of all skin colors.
Q: How long has Liposonix/ultrashape been available?
The Focus ultrasound treatment has 10 years of research and testing behind its development. It has a well-defined safety profile during and after treatment with very good patient satisfaction. Treatments have been available in Europe, Japan and Canada for several years.
Guangzhou VMED Electronic Technology Co., Ltd.is a high-tech company engaged in development, research, production, sale and after-sales service.

We have independently developed Cryolipolysis,Fat freezing,Cryotherapy,Shock Wave Therapy,HIFU Liposonix ,Cavitation,Radio Frequency, Diode Laser,OPT,IPL, Elight, Laser, Ultrasound, Pressotherapy, Dermabrasion and Electrotherapy series of products. With high technology, stable quality and perfect treatment result, these devices have garnered a good reputation from numerous customers. Furthermore, this makes our company have great competitiveness in the world market and promotes the technology of beauty to a high speed development.

Our company insists on the principle of "people oriented, advanced science & tech and client first", taking survival by high quality and development through science &tech. We provide perfect after-sales service to make customers more contented and high performance-price ratio products to make customers get more profits.
OEM service is our specialty. We can produce software and hardware according to your requirements, which make it easy for you to become a professional manufacturer!
Core Value
5 Core value of VMEDBEAUTY is to promise our faith to customer: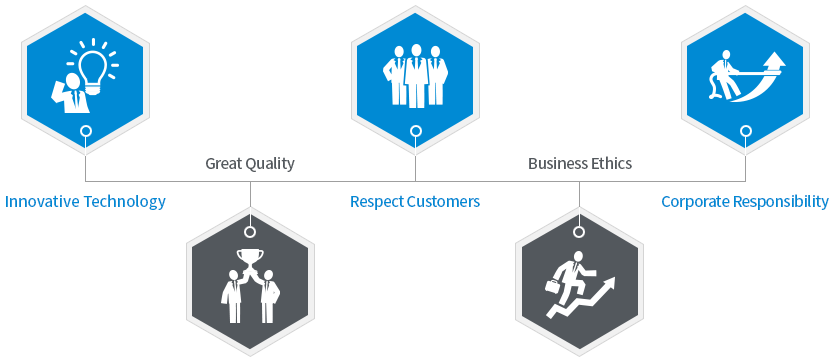 We sincerely hope that we can have chance to cooperate with you in the near future!